Full Spectrum Bathroom Design
Our well trained staff can cover the full spectrum of specific bathroom remodeling tasks, including but not limited to install new tile, wood, or vinyl flooring. Plus tile your walls, around the sink, and in the shower, plus implement mosaic/glass tiles.
We install new tubs, jacuzzis, deep-soaking tubs, and shower stalls (with sit-down ledge and tile insets for in-shower storage of soap and shampoo). For more elbow room, consider curved shower curtain rods in the shower or frameless glass shower doors.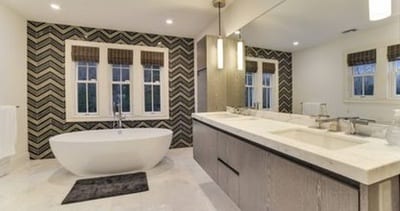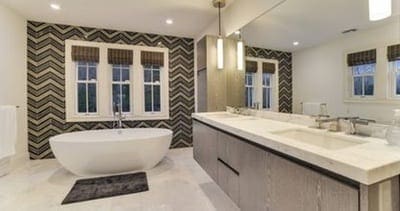 One-Stop Shop
Remodeling your bathroom is not a simple job. A full remodel involves many skills across a number of different trades, and most contractors "outsource" at least some of their bathroom repair work to professional contractors. RJF Construction has the breadth of knowledge necessary to be your "one stop shop" for all of your bathroom remodeling needs.
Customized Vanity Projects
Allow RJF to customize your next vanity project. Our catalog of inventory selection beats the big box stores, and you won't have those long waits for product delivery. Choose from natural stone, marble, quartz, granite, and more for your counter top and backsplash. Ask about wood cabinetry, mirrors and framing, undermount sinks, and decorative trim work. We'll custom-cut vanities to any shape and size to fit in tight/unusual spaces.
Remove your old, possibly leaky, commode and replace it with a newer, more upscale model. We know how to minimize the chances of leaks and back-ups so your sub-flooring will not be damaged by pooling water.
Save Energy, Electrical Wiring
Our team will run or re-route any electrical cables as needed to connect with new lights/outlets or in-floor heating controls. RJF experts will help you select energy-efficient LED lighting and strategically position them over mirrors, outside the shower room, in recessed areas directly over your shower, and elsewhere.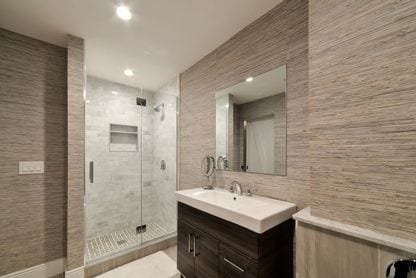 Fixture Replacements & Plumbing
We're available to replace and/or upgrade old faucets, shower heads, sinks and drains. We can even put in high-efficiency faucets and shower heads that reduce water flow rate to save you as much as 30% on your water bill. In general, we can handle all of your plumbing needs, including moving water lines to a new sink location.
Bathroom Ventilation
Improve ventilation in your bathroom by installing high-efficiency fans in optimal locations and keep your bathroom temperature-controlled by adding extra insulation and more energy efficient windows and doors.
Add convenience and style by putting in storage fixtures like near-shower towel bars, heated towel racks, sturdy tissue roll holders, vanity area shelving, and more. These little details make a big difference in the functionality of your bathroom, and buying quality means not having to replace them for a long time.
New Construction Projects in Contract
RJF Construction continues to add new home renovation and custom build projects! People know and love how RJF provides customers a complete follow through service, guiding them in every step of the building process, from design to materials discussion, budget to site arrangement.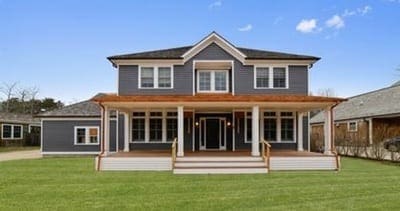 Shenandoah Valley, VA
Home Exterior Make-over
In contract
5,500 sqf
Harrisonburg, VA
Existing Renovation
New Roof and Deck
New Office Building
10,000 sqf
Elkton, VA
Tiny House Project
Beautiful Elkton Mountain Home Total Gut Project
Newport, VA
Home Exterior Make-over
5.5 million
New Market, VA
Beautiful New Market Home
New Deck
New Driveway Addition
Front Royal, VA
Modern Front Royal Home
Interior Renovation
Back Patio & Attached Garage